Discussion Starter
·
#1
·
This will hopefully become a bit of a build thread for my latest audio install.
As mentioned in a different thread, I took the plunge and bought one of these units off ebay:
https://www.erisinworldwide.com/hom...vr-system.html?search_query=ES7841U&results=1
It arrived on 1/8/2018. Took about 2 weeks shipping. It was very well packaged and arrived in perfect condition.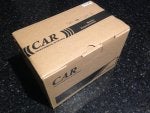 First job was to get the ISO connector changed to the correct NISSAN spec one.
The second connector in the patch harness is for my 4-Camera Around-View Monitor System and my TPMS. Here's the harness installed.
First real issue was the mounting brackets supplied with the unit. No matter how I orient them, it is impossible to make them work with the Patrol's dash.
I vaguely remember having the same issue when I installed the previous double-DIN unit I had in the car. From memory, these brackets (that I re-used again) are the original ones that came with the 6-CD stacker unit that was in the car when I bought it new in 2014.
Not all the holes line up, but it's good enough for now. This won't be the final resting place for the unit anyway. It's more just a test to see how it works.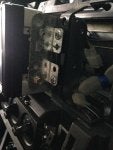 I'm surprised with how well it fits. I tried to take a side-on image to show the fit 'n finish. I'm very chuffed with the result.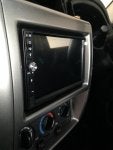 I've been messing around with the unit over the last few days. I'm not very familiar with the Android operating system, but I must say, this thing is a VAST improvement over the WinCE unit I had before. It's very fast and everything works really well. It'll take me a while to get it setup the way I want it because there are a myriad of options and menu settings to work through, but so far, I have nothing but praise for the unit.
It connects faultlessly to my iphone and wifi in the house while parked in the garage. Internet connection is perfect.
There were some discussions about startup time of these android units... My TPMS display works through the reverse camera signal. As soon as the IGN is turned on, the TPMS switches on. There is less than 1 second delay between me turning the IGN on and the unit's screeen coming on. It's VERY quick.
I'll update this thread as I go along...