Discussion Starter
·
#1
·
Greetings all fellow troll lovers. My head has cracked again, pressurizing cooling system. The first time this happened was just after purchasing the vehicle and upon towing a off road camper... All info is in older posts if your bored and want a read.
My ZD-30 and I have filed for divorce and she is replaced by a 2010 Ford Barra engine. Dellows Conversions bell housing for the Barra to GU auto transmission. Wyong Automatics rebuilt my torque converter with a increased stall and adapted it to bolt to the Barra. Manning Valley off road supplied engine mounts with the Barra to GU bracket kit. COMPUSHIFT SPORT stand alone transmission controller with torque converter lockup and bluetooth app to change profiles ie: from off road to highway or towing. HP tuners, VCM editor and VCM scanner. Full aluminum TD45 radiator with twin thermal fans that fits GU with radiator hoses inlet out outlet that just happens to match the Barra engine.
This has turned out to be a huge and costly conversion. I have seen many NA and forced induction Barra to Patrol conversions on YouTube but they have all been with a 5 speed manual gearbox.
I'm hoping that somebody can offer some advice on the following..... I assume I'll need custom AC lines to go from the Ford AC compressor to the Patrols existing cooling system? If so, could you provide company's contact info.
2010 Barra. Rear sump hump and extended oil pickup was added to clear the front diff
Jig to set the width of chassis mounts. The engine mounts needed to be shortened and adjusted to suit chassis mounts.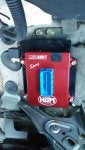 COMPUSHIFT SPORT mounted below the center console. Just so happens there are grommets that were utilized to feed RE404 control harness through the floor close to the gearbox.
I have transfered diesel from the AUX tank and pumped out fuel from the main tank, have installed a submerged 12v electric fuel pump with insulated bulkhead.
Engine has been test fitted with the chassis mounts tacked into position. The chassis mounts are now welded in and the torque converter has now been delivered. Hoping next time the engine goes in, will be the last time. For those that may be of interest, I'll follow up with more pix or the progress.