GQ Dual Cab. TD42Ti with fruit.
Discussion Starter
·
#1
·
Ok, first up I am not the brains behind this turbo selection, so I won't pretend to be. But having made the decision to fit one to the TD42Ti in my GQ, there was a lot to figure out for me. So as I go along I thought it would be good to document some of the details.
Eventually there will be a dyno tune, and the power and torque figures will be known. However, this is not going to be a "numbers" exercise, so those of you expecting to see big numbers will be disappointed. First and foremost, my GQ is a tourer, so torque production at low revs is number one priority. I also have an 11mm pump (mechanical) which has not done much work, and a Safari Tough clutch which is the same. So getting a 12mm pump and a clutch to handle the torque is not going to happen until they wear out.
My engine is a TD42Ti crate motor from Nissan, fitted last year. Cross Country top mount intercooler, modified intake manifold, Turboglide high mount exhaust manifold. Manifolds have been port matched, and the exhaust manifold ceramic coated. I have a Radius Fabrications 4" intake and LS1 airbox. I also have water injection, but that will be left switched off initially.
First thing for me to figure out was how it would bolt up to my manifold, and how it would match up to the water and oil lines and intake that I had fitted to my existing turbo, a Garrett GT2860RS. The EFR6758 needs M14 x 1.5 water fittings, and a -4AN oil supply fitting. These fittings are the same as the Garrett, as is the oil drain. My Turboglide manifold has a T25 flange which also matches the Borg Warner. The inlet on the compressor housing is smaller than the Garrett, so I needed a new silicon hose to join the 4" intake to the 2.5" housing. Incidentally, the Garrett is not actually bigger internally as this would suggest, as the internal and external dimensions are quite different, where the Borg Warner is not.
The EFR6758 is a bit larger than the 2860 as the photo shows. No big deal with the inlet, as most of us have a pipe or hose of some sort that can easily be shortened as needed. However, the turbine housing is now closer to the firewall by about 25mm, so that means less room for a dump pipe. On my high mount manifold, after I moved the clutch line out of the way, I have about 100mm to make a 3" dump pipe. Oldmav tells me that he has managed one with 80mm, with a bit of skill needed of course. Mine should be ok (I hope!). See how I go.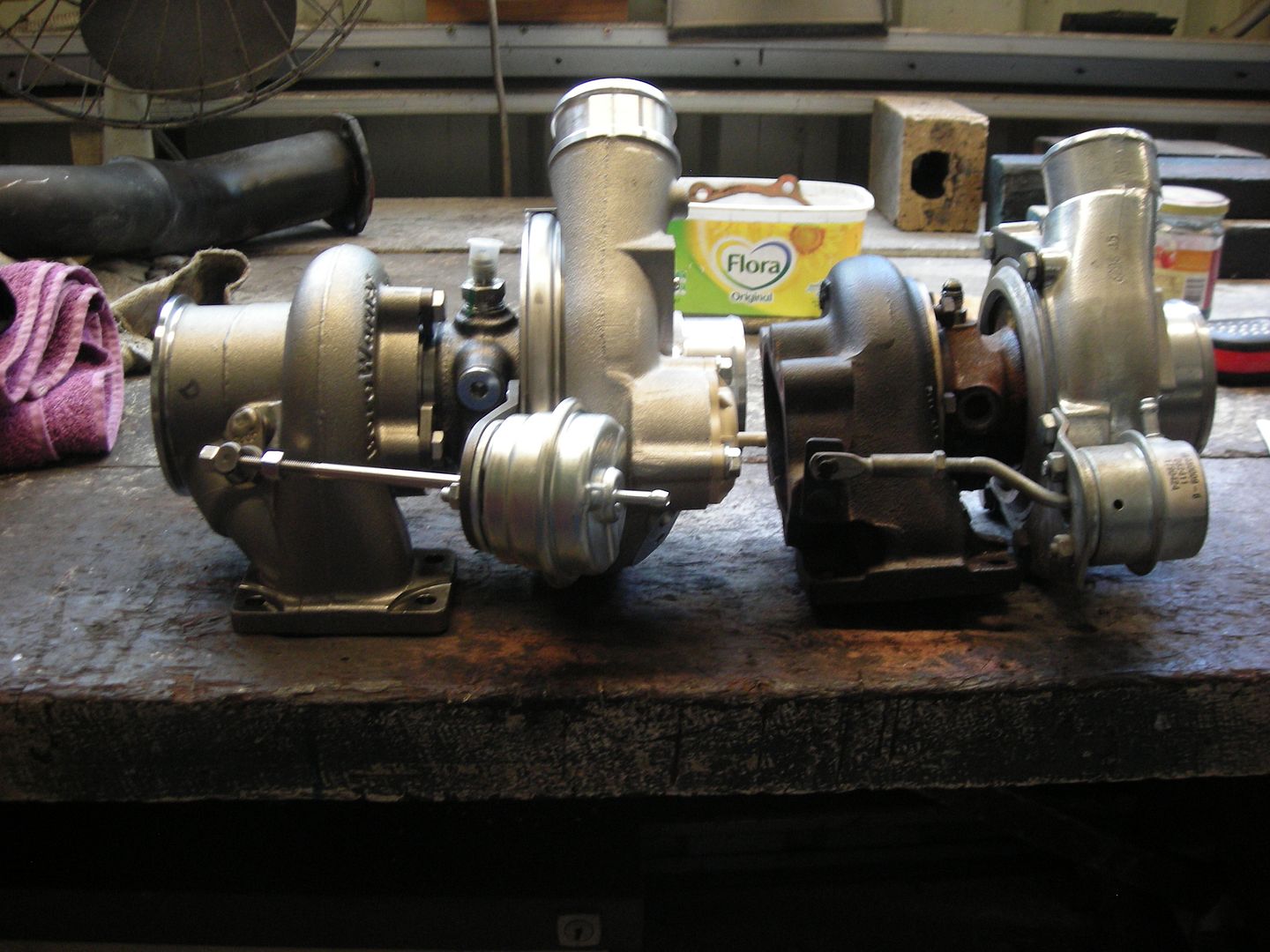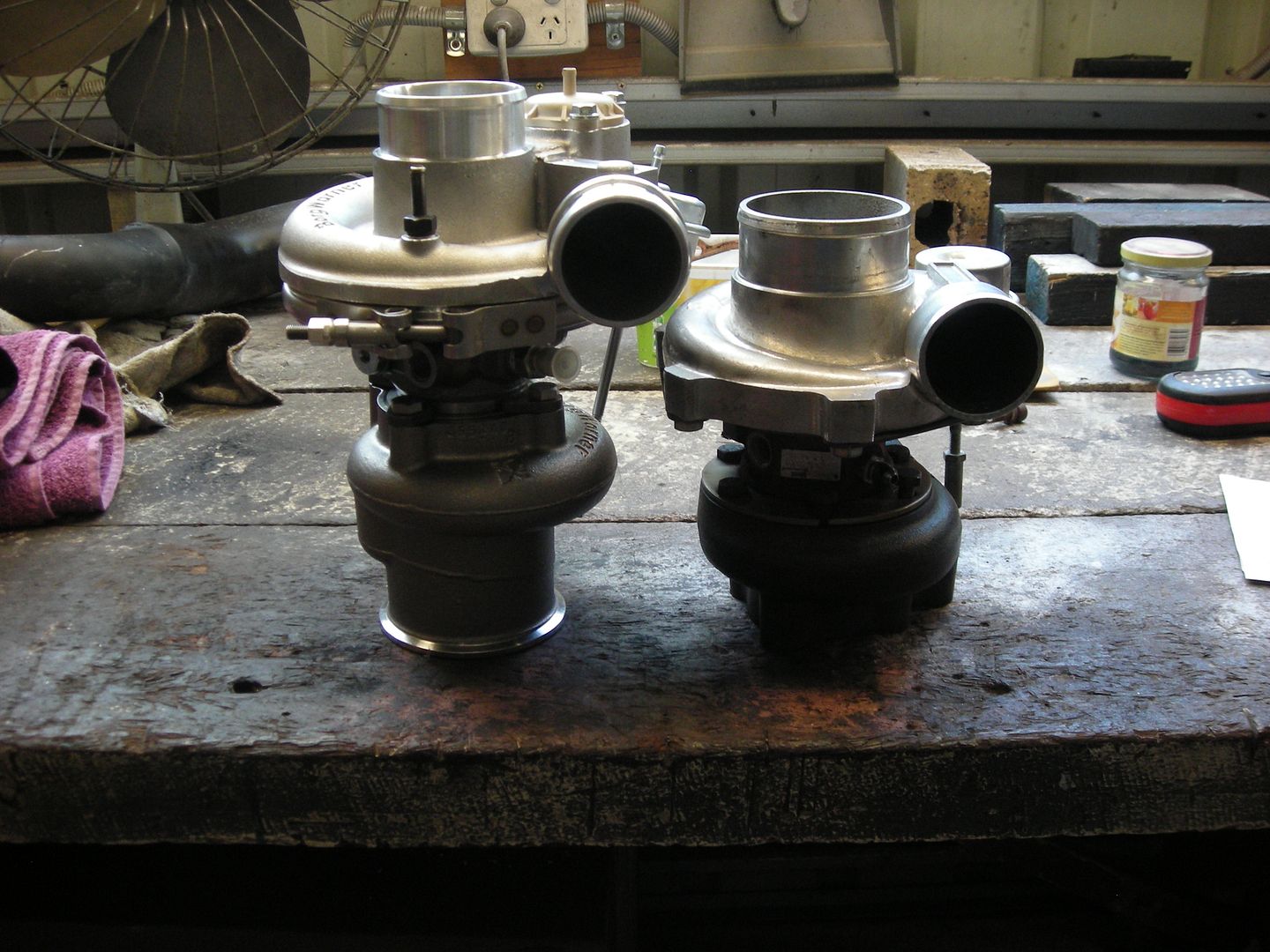 As someone who could be considered "enthusiastic" rather than "knowledgeable", to my untrained eye the differences in the turbine housing between the two turbos shows what looks to me to be a big advantage to the Borg Warner. I will let you be the judge.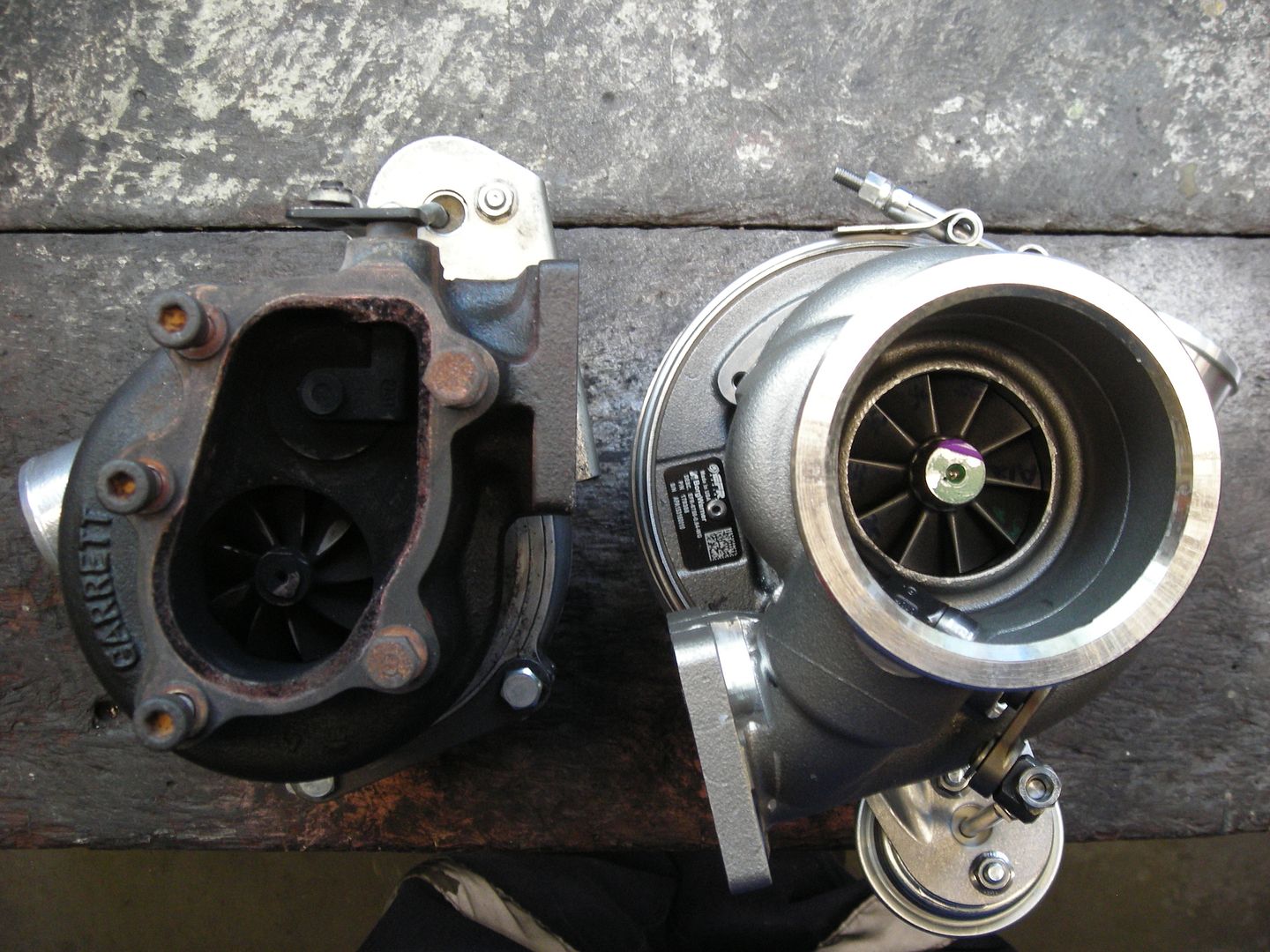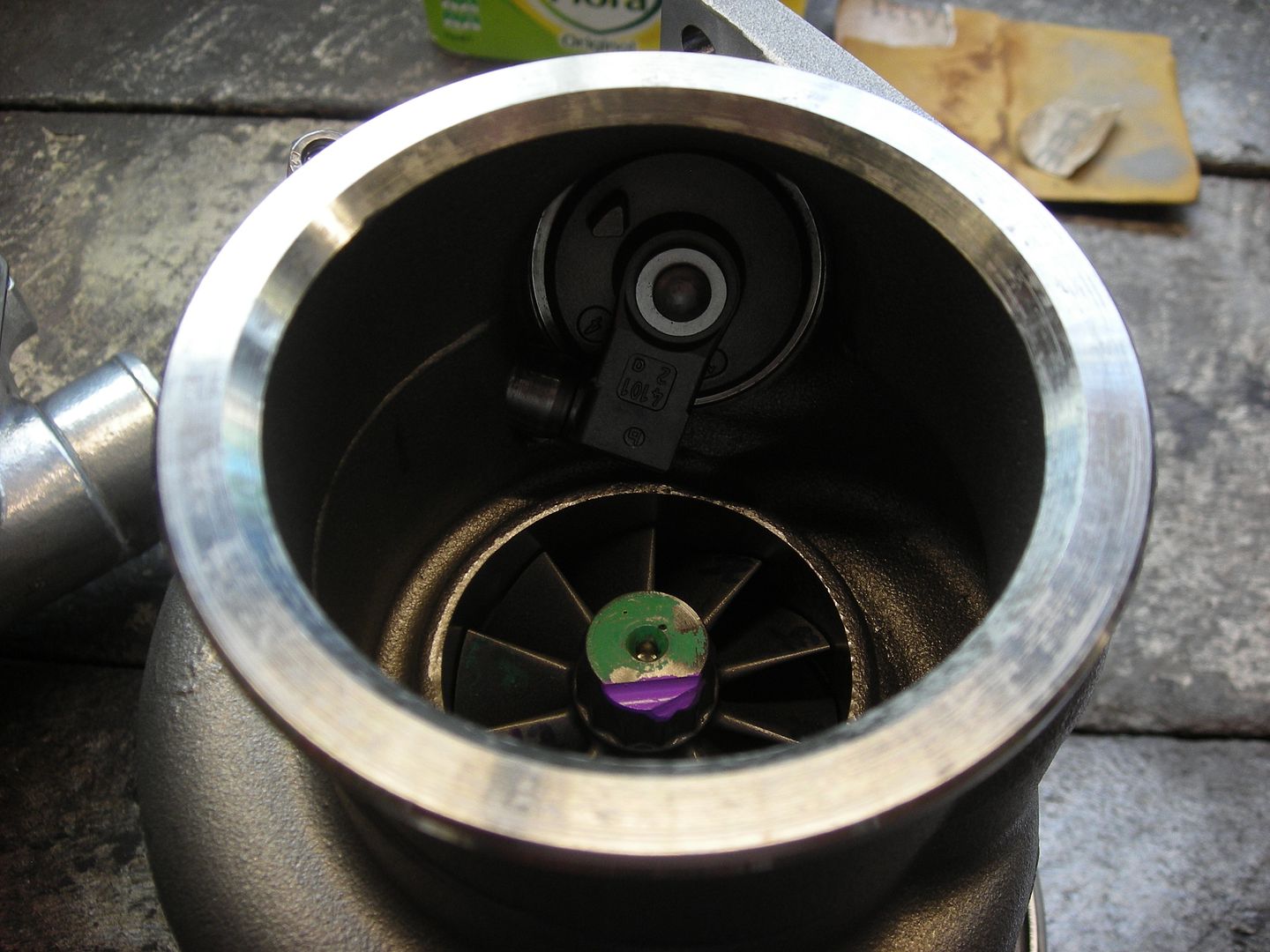 One thing I did not get right was the V band flange and clamp needed. The BW is different to others, so a generic V band flange and clamp will not fit. The photo shows one difference between the two, being the taper. The BW flange is on the left. They are also slightly different in diameter. Clamp MAY be different, not sure on that. I had to modify mine to clear the housing. GCG Turbos list the same clamp for Garrett and BW though. I think there will be specific clamp available, but as I already had one I fixed it with the die grinder.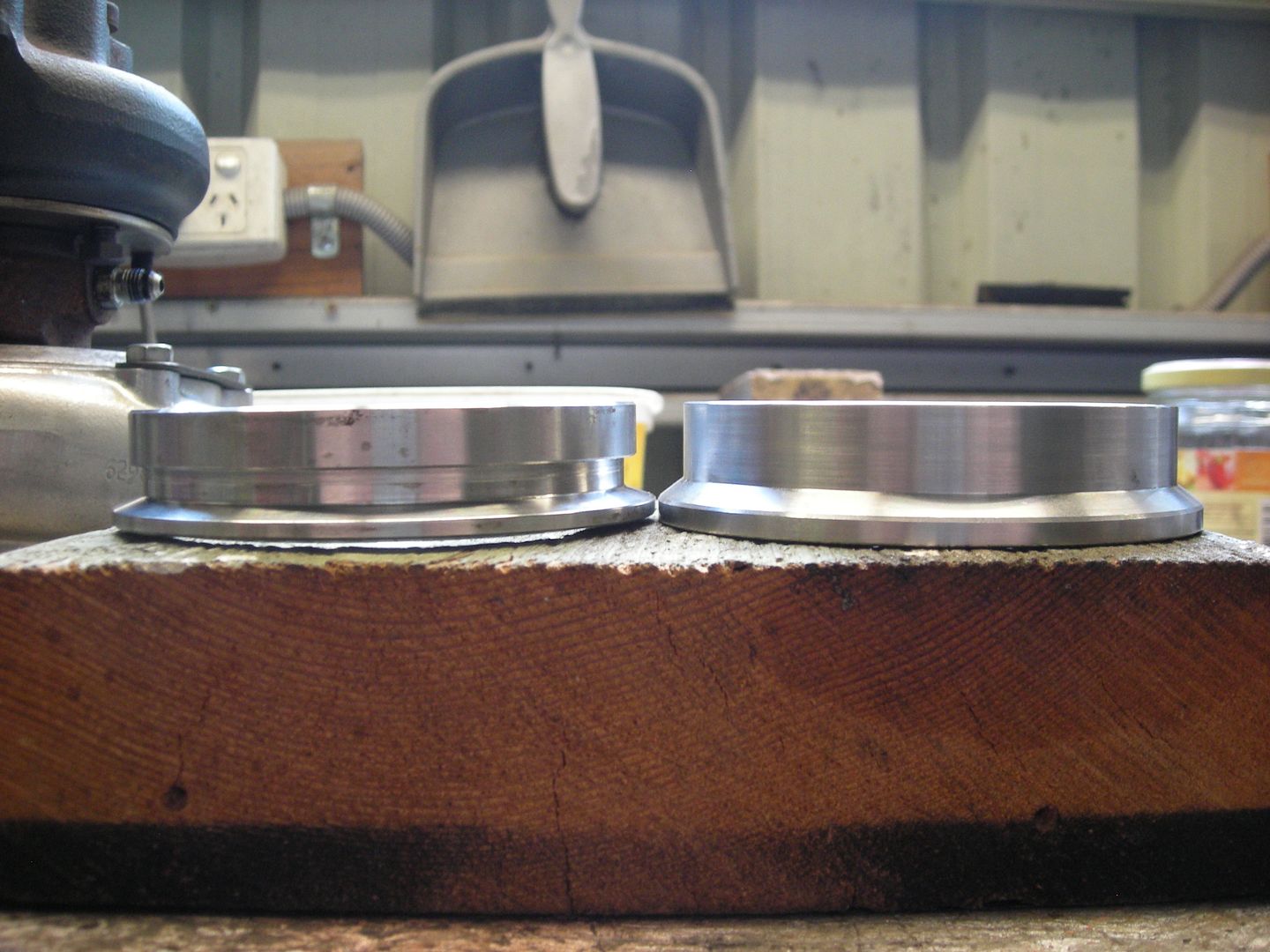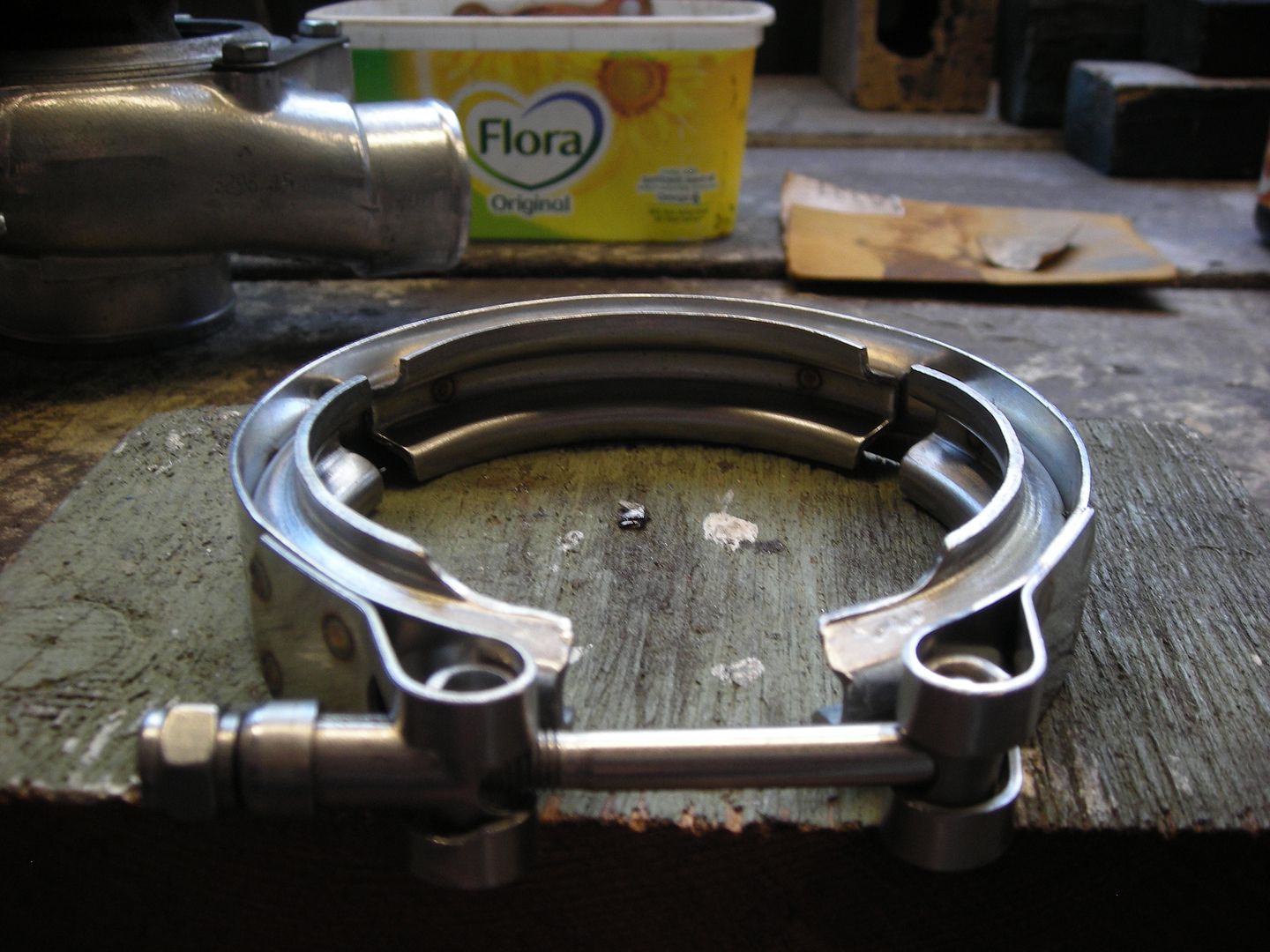 I have done a test fit, which is all good so far. Seems like it is where it needs to sit. Photo is a bit deceiving, as there is enough clearance to the aircon lines. So now I am waiting on parts. Dump pipe is the next job, and I also need a different mount for the boost canister. Borg Warner makes a "Super short" wastegate bracket kit, which Oldmav has assured me I need, in order to get the angle on the wastegate actuator right for our application. It is also needed to help with guard clearance if you have a low mount manifold. This part is not available, so I have to wait for it.