Discussion Starter
·
#1
·
Greetings.
I was getting sick of the dull parkers and indicators in my Nissan Bullbar so i bought a set of ADR approved LED replacements from OzLED (Check the vendors section).
The model is 200CAW.
This is what the indicators and parker unit looks like before. Mine often filled up with water and the lights often didnt work due to the amount of crap in there.
Click on the photos to see a larger one, ive just made these thumbnails to help out the people with low bandwidth.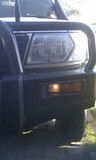 First thing to do is to remove the two screws that hold the existing light assembly in, and pull the whole light assembly forward.
There are 3 wires which go to the original assembly. The loom loops up over the horn. I just cut the wires and put the old assembly aside.
The new assembly comes in a box with a bracket.
Depending on your wiring, this is how it should look either interfacing to the wiring extension, or the wiring before the extension.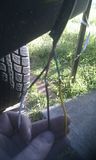 or
Solder and tape everything up.
The bracket fits into the existing insert. I replaced the screws with some slightly longer ones. If the hole in the plastic is a bit chewed out, just use larger screws, or put some clips behind. Clip the light into the bracket. The light is sealed, and looks very sturdy.
Pretty easy, and looks pretty good id say. As a bonus if you buy from OzLED its ADR approved!
Ask any questions, look forward to your comments.