All work done the hard way
Well, this thing turned up in the post the other day, and I had to make room for it in the crowded engine bay. The second battery had to go.
(the airbox is a work of art, gives me a thrill every time I look at it ha ha!)
I have considered many options and decided I would go for a rear battery installation, mainly because I always seem to be tinkering in the engine bay and there is no room to work in there. I had heard rumours about the void behind the cover panel on the passenger side, so I thought I would check it out and do a little write-up as it doesn't look like anyone has done one yet (I did look).
How to remove fill panels in GU wagon in ten easy steps
1. Start by removing the cover strip at the rear of the boot. They have those little plastic things that are supposed to unscrew but mine didn't, so I just drilled them out.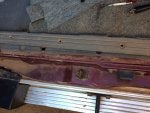 2. Pull the edge strip away and remove whatever other accessories/junk you have in the boot- it will make it easier. I say this in hindsight.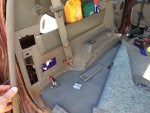 3. Remove this trim clip from just inside the barn door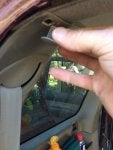 4. Unbolt the seatbelts for the 2nd and third rows (14mm nuts) and the grab handle from above the window. After you have undone the bottom nuts, the seatbelts can be left hanging for now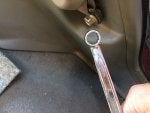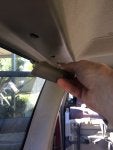 5. Unscrew this useless thing from near the window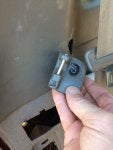 6. Remove this cover from closer to the front of the window. I think it is supposed to slide up and off the clip; I didn't know this and I broke the clip (it wasn't the only one). Check for any other visible clips or bolt-ons- I may have missed some, or some may be missing in my vehicle 'cause it's old
7. The demister can be left connected; it isn't in the way. Just as well because I couldn't get it apart anyway.