Discussion Starter
·
#1
·
I have been looking for a comp truck for about 18 months, well I finaly got one.
1989 GQ Extra Cab. Big thanks to John Bidwell at biders 4wd unlimited for all your help with every thing
.
Custom Extra Cab Chop, Rear Chassis Chop (Bobtailed), 8 point CCDA Spec and approved Roll Cage, Chopped front guards, "A" piller and gutter bars welded through to cage. All of the Bar work Cage and Welding has been done by Biders.
Currently a 4.2 Carby, Extracters, 5 Speed, Heavy Duty Clutch, GU front Diff housing Fully Laminated, 4:3 ratio, Front and Rear lockers. 2" suspension and 2" body lift, H/Duty Panhards front and Rear, H/Duty Rear Control arms, solid Steering arms, tie rod protecter, GU Steering Box
Winch is a 24V Custom Highmount, 6HP motor, Gigglepin Brakeshaft, 100mm Extended drum, all Braced and pinned, 2 x Extra Batteries to run Winch, separate 24V alternator, Albright Solinoid, 45 M 11mm Plasma
36" x 15" Simex Extremes on Cheezy steel Beadlocks and 35" BFG muds.
FX324 gps.
All engineered and leagal bar the tyres
.
Thats all I can think of at the moment. As soon as I get the cash I will be converting it to a TD42, but the old carbie will have to do for now. I will put some more pics up over christmas.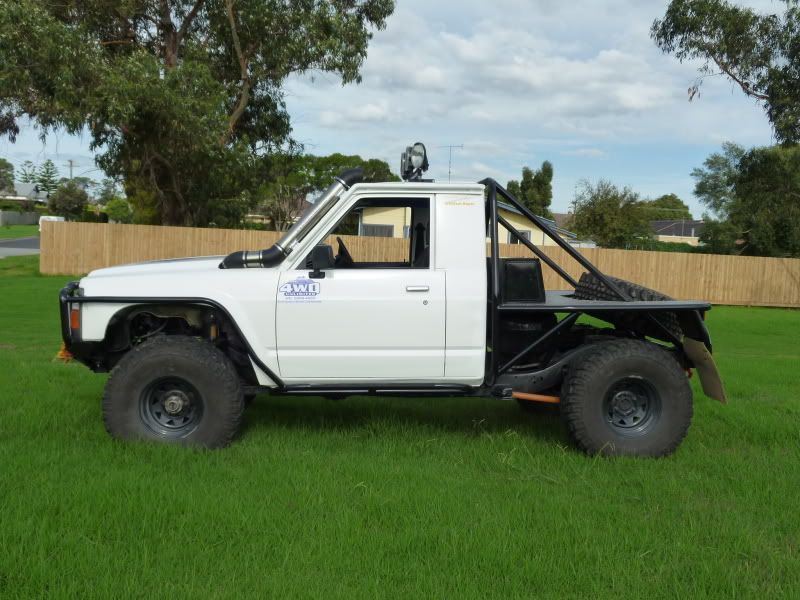 Will post some more pics over the next week or two.