2003 ZD30 Di Patrol (The rare Gold one)
Discussion Starter
·
#1
·
Introducing the Power Train glow plug timer from REPCO. This is currently available in store for $53.99 retail. It has a 0 to 20 seconds primary timer as well as a 0 to 20 seconds afterglow feature which pulses the glow plugs for the set time. (Would be helpful in a very cold climate.) Setting the time is a one button operation and very easy to do. Screen will count down time as well as light up a LED when activated.
This timer circuit mod will only provide power to the glow plugs when the engine is cold. If the engine is up to operating temperature the glow plugs won't receive power at startup.
Items required:
Powertrain Glow Plug Timer
Relay. (I use the Narva 72386 12v 30a but you could use any good quality relay.)
Red and black wire.
Fuse holder with 5a fuse.
3 x red female spade terminals.
1 x blue female spade terminal.
Solder and soldering iron.
Electrical tape and heatshrink. (Heatshrink is always neater. [FONT=&quot]��[/FONT])
Method:
1.

Carefully remove ignition shroud being careful not to damage Key reader. Unplug the connector that has a Blue wire with Pink dot on back of ignition barrel. Strip a small bit of insulation and solder on the power wire for the timer. Cover joint in tape and reinstall shroud. (This power feed turns on with ignition and does not turn off whilst starter motor is in operation unlike most other power feeds.)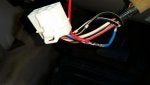 2.

Solder power feed through 5a fuse to the RED wire on timer.
3.

Crimp red spade terminal to BLUE wire on timer and connect to pin 86 on relay.
4.

Heatshrink or tape up YELLOW and BROWN timer wires as they are not required.
5.

Twist together a length of earth wire with the BLACK timer wire and crimp on the Blue spade terminal. Connect Spade terminal to pin 85 on relay.
6.

Connect earth wire to a body earth.
7.

Unbolt ECU harness from ECU with 10mm socket and peel back cover to find the GREEN wire with BLACK stripe that goes to pin 111 on the ECU plug. Cut this wire and solder on 2 short lengths of wire to extend it about 15-20cm. Attach a spade terminal to each wire.
8.

Connect wire from ECU plug end into pin 30 on relay. Connect wire heading to glow plug relay into pin 87 on relay.
9.

Turn on ignition to reds and adjust timer to suit. Hold time set button in for 3 seconds until glow led lights up. Tap button until desired time is reached. Hold button in for 3 seconds until after glow LED lights up and adjust that. Turn off ignition and it's all set.
10.

Either tuck timer under dash or mount it so it is easily seen.
11. I still recommend having a LED that runs off the glow plug bus bar as assurance it works as it should but this is optional. If not doing this I recommend checking everything is working as it should by testing power at bus bar when timer is running.