Discussion Starter
•
#1
•
IMG_20151114_084027.jpg
Hello.
I thought I had better get this post started sooner than later.
I did a quick search for panhard rod, mount failure, and I found a good deal written up on the failure of the mounting bracket on the cassis.
This is a failure at the other end, the pin, that is a component of the front axel.
View attachment 290577
This event has the potential to lead to a very serious failure of steering control, and a horrible crash.
The Wife had (Henrii) the vehicle out when this occurred. She was on a stretch of straight
highway. 80 Km/h speed limit. So road conditions were not a consideration.
She called me from where she broke down, and I drove out to examine the truck.
From her description, it sounded like both the front wheels were falling off....
My initial inspection showed up nothing out of the ordinary, so I took the truck to drive home and give it a full inspection. when I pulled out and got up to speed,( about 75 Km/h), all HELL broke loose! nearly ripping the steering wheel out of my hands, the front end leaping left and right in uncontrollable oscillations.
Very frightening!
I was able to regain control, by backing off the accelerator, and not using the break.
Pulled to the road side, and with a flashlight this time, did a more thorough inspection...
View attachment 290569
Still quite away from home I had to find a method of stabilizing the front axel.
thanks to some searching the roadside for treasures that fall from other vehicles, I came up with this solution.
Next day, I set about researching all mention of panhard rod connection failure, and found only that there is still an active recall for the chassis mount . there is an upgrade available.
no mention of the axel pin breaking or falling off....
so I set about removing the failed pin....
IMG_20151114_113928.jpg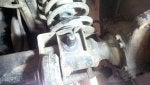 using a five inch angle grinder with a 2mm disc, and an electric die grinder (at a slow speed setting) with 10mm tapered carbide burr, I set to removing the weld bead, that appeared to be holding the pin to the axel.
When I thought I had all the weld bead removed, I began massaging the pin with a 3lb hammer to loosen it from its axel mooring....
turned out that it did not want to come free...
after much more "massaging" the pin did come free, evidence showed it had been welded from the back side. ( only a small bead, but still...)
So with the old pin in hand, I drew up a drawing to send to a machine shop, and have a new pin made. I changed a few dimensions to add strength, and help ensure this does not happen again.
Had the drawing executed, and this was the result..
I forgot to mention... the day after the incident, I returned to the scene of the crime and FOUND the inner bushing , as this was required to put back inside the neoprene bushing... and it is shown here in the photo with the new pin, retainer, and castle nut.
The following shots show the stages of reassembly and welding....
View attachment 290657
so at this point I have run out of room for photos so I will finish here, and continue in a new post.
a closing note, if I am not able to add to this post...
this is a VERY DANGEROUS failure. if you are renewing panhard rod bushings, inspect the pin for signs of wear, or fatigue...