Discussion Starter
•
#121
•
Great trip review, looks like it was a good weekend away. I'm very keen to see what you come up with in regards to water storage. I've not seen the rear-quarter panel bladders but i've been toying with the idea of a 30-40L tank in behind the rear seats at the back (front?) of my drawer system. How does the bladder system protect against dust and other crap rubbing through it?


I spent my weekend doing some exploring and also noticed the road noise was pretty loud at times, and almost unbearable on corrugated roads, Before I seriously start to build out the interior of my vehicle I'd planned on pulling up the carpet to make sure any holes are filled and sealed, I may as well add a good whack of sound-proofing to it at the same time. Thanks for the link to that car builders kit, it looks the goods.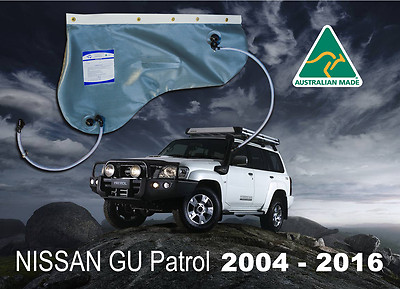 We use the finest 100% Australian made PVC fabric (900gsm) for our potable product range. We have designed a perfect bladder to fit inside the rear quarter panel of the NISSAN GU Patrol (2004-2016).
This is the water bladder for a series 4. It's only 30L (40L for earlier models), but coupled with a 20L jerry would be loads. I firmly believe that water should be carried in at least two containers in case one fails.
The brand is "fleximake" which is a respected mob and made in Australia. I've seen a lot of favourable reviews for this setup which uses up the empty space in the rear quarter. See pics on that ebay link. Doesn't work for the later models or Ti that have the rear aircon I believe.
The carbuilders kit is definitely looks promising. I have bought a few things off them and they're very happy for a chat and advice. I did heaps of research comparing buying various brands (ebay crap etc) to save money, but ultimately found those kits to be the best value.