·
Blues Won as Expected. Go the Knights
Discussion Starter
•
#1
•
My very old Waeco CF 60 fridge was running constantly and not cycling on and off.
( not stopping once the desired temp was reached)
End result was everything in fridge freezing and or premature flat battery while running on 12v, not good in either case.
So I got to work to replace the thermistor sensor.
First you need to turn it upside down and remove all screws holding base and compressor.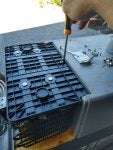 Next was to prise off the plastic base.
Not a easy job to do , but it's is do able..
All I did was start at the compressor end and use a screwdriver to prise it off.
I also used a metal ruler see pictures..
Once the plastic base is removed you can start cutting the insulation foam to locate the thermistor sensor..
In my case and the thermistor wasn't located on the bottom it ran up along the side of the fridge embedded in the insolation foam.
So I'm "not" gonna dig that out I'm just gonna replace it and fix it to the bottom of the fridge..
Like this.
See picture below, off the web..
Stay tuned once I fit the new thermistor sensor wire tomorrow and we'll see if it works..
Worst case scenario is I'm up for a new evakool fridge..😉
But I suppose that's not really that bad..😁