Discussion Starter
•
#1
•
Hi folks,
Not sure if many of you have been following my quest to find the cause of a bad squeal coming from the front of my engine. Ive changed the tensioner pulley wheel, changed the belt, used countless different fluids for lube and for grip.
Today, i changed the alternator cause it thought it was the pulley clutch on that but it wasnt. Im proud of the fact i did the alternator on my own!!! The squeal is still there.
I did some diagnostics with the fan off and with the belt off. With the fan out of the way, i did the old stethoscope check and have found the culprit. The water pump! I took off the fan belt and started the motor only briefly without the belt running the pump and the squeal wasnt there. I played around with the water pump pulley and it has some deffinate play and i can hear a slight squeal when i spin it freely which would quite possibly get louder with more rpm that the engine would produce.
Now, i want to remove the old and install a new pump, but there are a few things i want to get clear before i do it. (tomorrow hopefully)
I have learnt how to remove the pump, but in my ellery's workshop manual it says i need to do a few things im unsure of.
1. Remove the vacuum pipe? I have added a picture to ask if the small pipe running left to right in the picture is the vacuum pipe, and will it be just a simple remove and re-iinstall?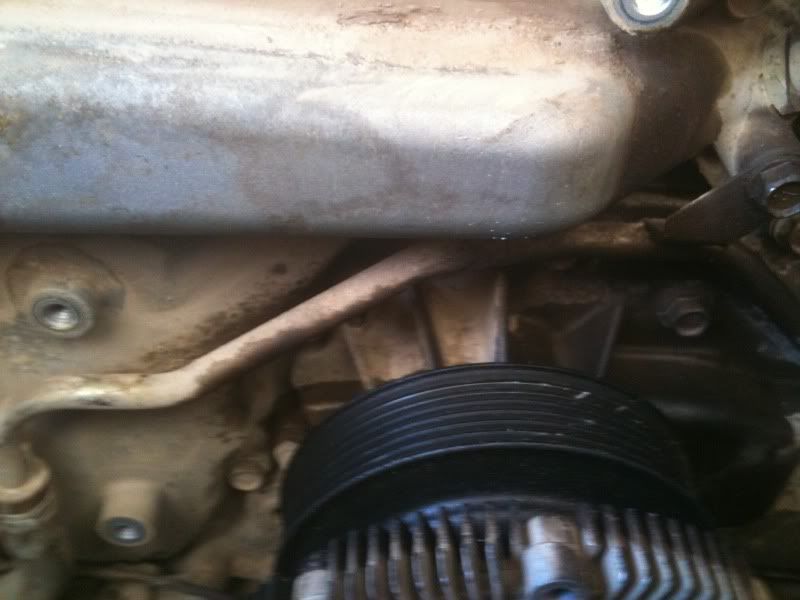 you can see the pipe that runs just above the water pump pulley, it seems i wont be able to remove the water pump without removing this pipe, is that the vacuum pipe mr ellery speaks of?
Also,the book says to remove the coolant by undoing the engine block coolant plug which is located below and to the right of the oil filter, i physically can not even get to this plug, will i be able have the fluild run free when i remove the water pump assembly? It says in the book not to get fluid on the belt, but the belt will be well out of the way by the time i start removing the water pump and i will wash the front of the motor before i re-install the belt.
It also says to remove the TDC sensor? is this just below and left of the water pump assembly? If so, on inspection it seems its not going to be in the way of the water pump removal, so is it necessary to remove it?
Anyway, i think thats it for now.