Hey guys!
well after a few weeks of getting different things and actually being bothered to do it, ive finished installing my zd30 airbox for the snorkel which ill post in here soon too!!
i did have a nissan factory snorkel for the GQ and it was POS, ripped that sh|te off.
heres some pics
Before: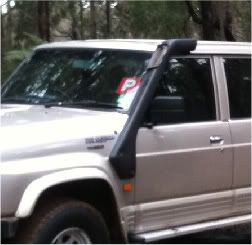 After:
and for temporary ive just dumped the pcv breather line into an empty coke can (till i get a catch can)
all up for in bonnet plumbing costed me $225. 195 for zd30 box and 30 for the 3"flexi which came with the hose clamps
the stainless steel i bought for the snorkel is 316, 1 45degree bend, 1 90degree, and 1 meter straight all 4" (102mm) $92 for bends, and $50 for the straight meter
bought 1.5m of 4" ID of flexi tube from clark rubber for $93
!
cant wait to get it all done!
i think already with the air coming directly from the wheel arch to the turbo and not piss farting bending around and heating up all around the engine bay, she seems a bit more responsive, especially when in overdrive.. before she sorta slugged ALOT! in overdrive but now i didnt have to shove my foot to the floor to stay at 80kmh on same hill!?
cheers